With Valentine's coming in less than a week, I'm sure many of you girls and guys are bending your head backwards trying to come up with something special to give/do.
I believe that the most sincere gift one could gift is in the form of food, of course besides her/his heart. So here are some heart-shaped food ideas that are extremely easy to do and the ingredients could easily be found in your kitchen!
Disclaimer though, I'm in no way a good cook! My mum does not cook, and until secondary 4, I thought if you cook water for too long they'll turn brown. So, all these recipes are made by the easiest way I could crack out and I just intuitively mix in the ingredients. I use toaster oven and heart cookie cutter for all the recipes where needed ;)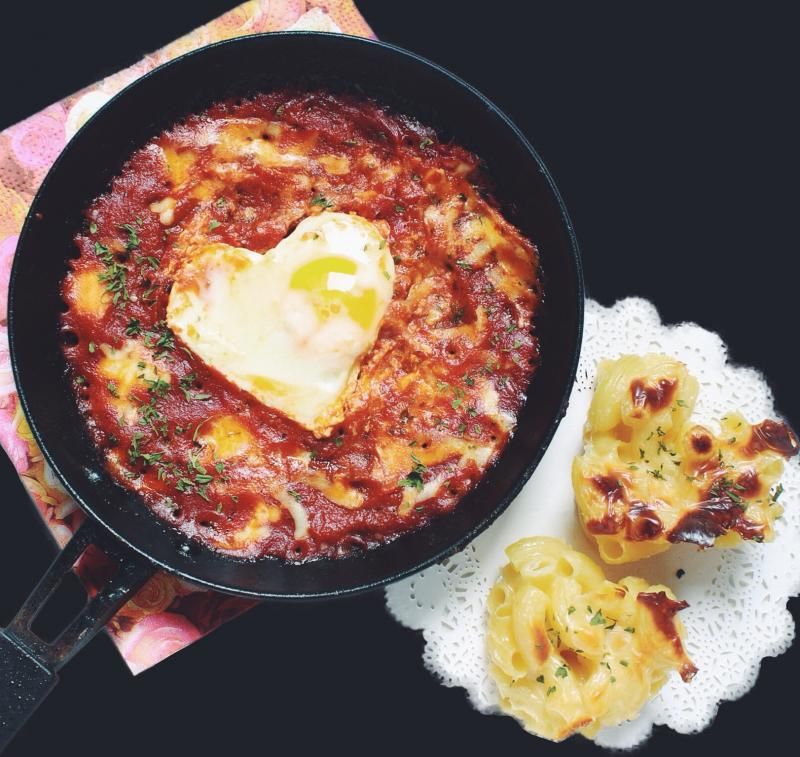 1. Eggs in Purgatory x Heart-shaped Mac & Cheese
Eggs in Purgatory ( Eggs poached in Marinara Sauce )
1.
Bring the marinara sauce to a simmer in a small saucepan, and turn the heat to low. Add some parsley if you wish.
2. Make a hole in the middle of the pan, and set in the heart cutter
3.
Break the egg into a teacup, and carefully tip them into the cutter. Cover the pan and simmer over low heat for 3 to 4 minutes, It's important that the yolk be runny.
4. Thong out the cutter and t
urn off the heat.
Season the eggs with salt and pepper to taste and sprinkle on the Parmesan.
You can serve it on a wide bowl, or you could just serve it on the saucepan like I did!
Mac n Cheese in heart shape
Directions
2. Make a heart shape from aluminium foil
3. Pour in the cooked macaroni into the foil, and sprinkle parmesan cheese generously. Pop them into the oven till it turns brown
4. Set them to cool before unwrapping the foil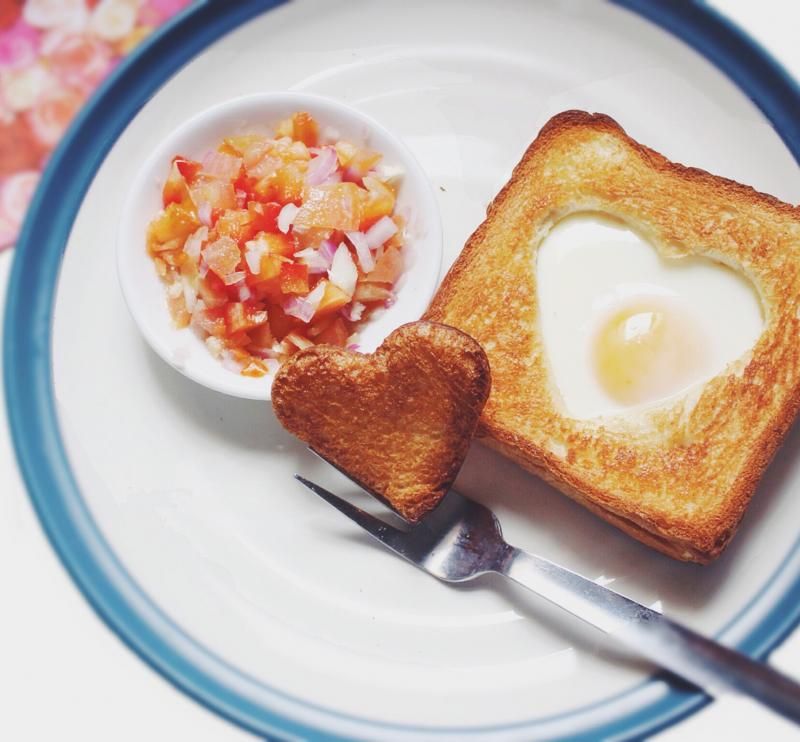 2. Egg in basket X Salsa Dip
2. Cut up a heart shape from a bread
2. Coat your aluminium foil with butter
4. Spread some butter on the bread, especially the sides of the hole
4. Toast the bread, along with the cut-out heart
5. When it turns slightly brown, flip it over and crack an egg into the hole
6. Put back in to the oven till the egg is set
1. Cut red pepper, Tomato and red onion
2. Mix them with oil, salt and pepper
3. Wanton Cheese ( w tomato soup )
1. Cut out wanton skins into heart shapes
2. Cut out heart shapes from the cheese slices
3. Put a heart slice of cheese, on top of the cut out wanton skin
4. Put another wanton skin on top of it, and seal with water
5. Heat up oil in a frying pan
6. Deep fry the wantons until they turn golden brown
You could buy the tomato soup from NTUC ( haha )
4. No-bake Oreo Cheesecake
Ingredients
Directions
1. Melt butter and mix with crushed oreos, press down to the bottom of the tray. Refrigerate for some time.
2. Beat cream cheese, sugar and vanilla in a bowl. Mix in some crushed oreos if you'd like.
3. Press down the heart cookie cutter into the oreo base, and pour in the filling into the cutter
4. Sprinkle some crushed oreo and refrigerate till you can lift up cutter without messing the shape of the cake
1. Cut out heart shapes out of a bread
2. Spread butter on both sides, and toast till it turns light brown
3. Spread marinara sauce, and choose your toppings and pop it in to the oven for a little white
The toppings options are endless, here I used green pepper shaped into a heart with melted cheese inside, parmesan cheese, the salsa dip I made earlier. Otherwise , at the top of my head, you can use sausage, mushroom, spinach with feta cheese.
1. Beat nutella , flour and egg till they're smooth
2. Mix in red food dye, and continue beating till the color is uniform
3. Pour into a tray, and pop it into the oven till you can start smelling them ( lol )
4. Set them to cool for a while before cutting them into shapes
5. Powder icing sugar on top of them
I had a lot of fun making these food, and my siblings actually laughed at me because I stayed in the kitchen for hours breaking my back, making all these ( and I quote my siblings ) funny funny food!
Ultimately , you could make these any day of the year because as they say, valentine's is not to be celebrated only on the 14th feb but every day of the year !
If any of you actually are benefited from this post, I would love to see the end results! Do mail them to poyopoy@gmail.com :)
Happy valentine's kitties! And be safe x